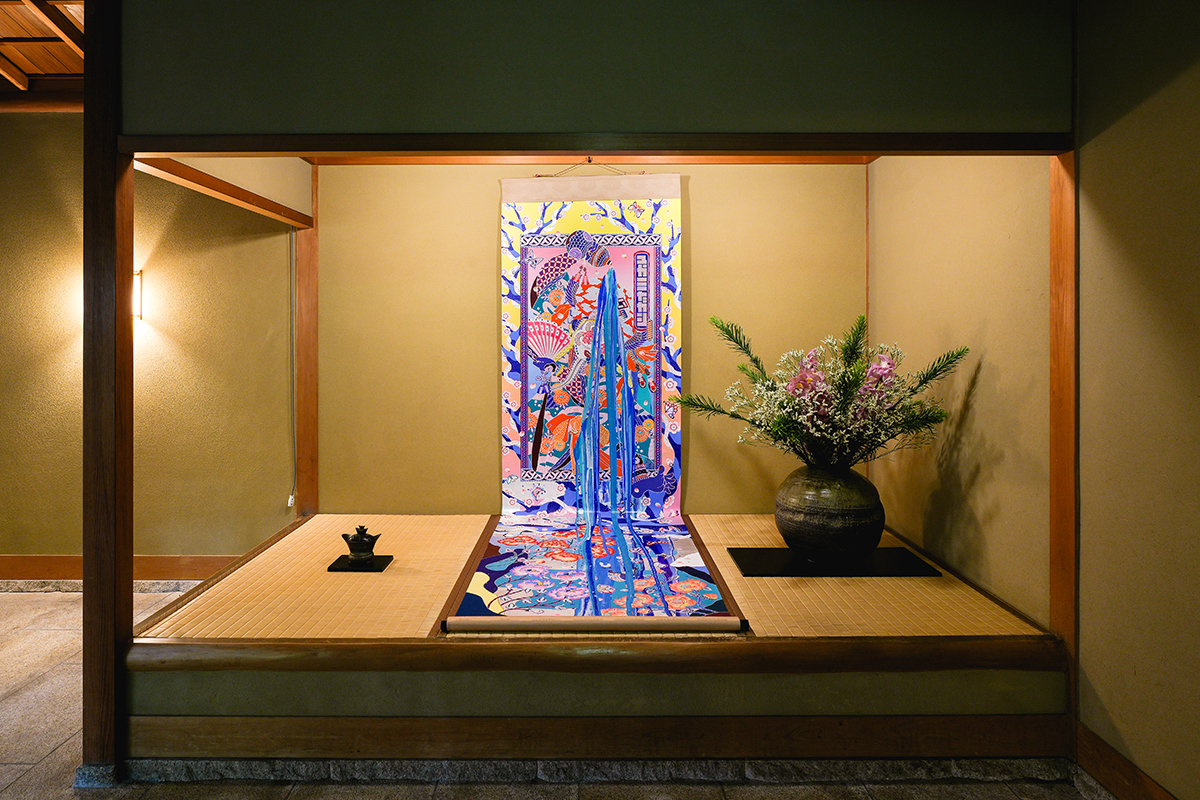 ©Kohei Kyomori / DOGO ART 2023
Yamatoya Honten
flowing Yugami
Kohei Kyomori
In a refined small space made for the entrance of a pure Japanese-style inn, the artist dares to present a hanging scroll-like work celebrating radical colors.
The motifs are interwoven with decorations from the East and West, with a Japanese animistic spirit in the center, depicting a "god of hot spring" symbolizing Dogo, the town of hot spring bathing. The artist has interpreted tradition from a contemporary perspective by using a variety of techniques, such as applying foil, sewing on textiles, resin coloring, and dripping paint, to show what "transcendent craftsmanship" is all about.
Artist
Kyomori reinterprets the ornaments found in crafts and architecture as a visual language, and explores the nature of art in the post-colonial era, after the conceptual art movement. Kyomori is sympathetic to "the overwhelming visual density of human labor applied to the creation of ornaments". He sometimes incorporates the techniques of ceramics and dyeing into his painting, adding layers and layers of skill and manipulation to produce a single work of art. Kyomori confronts painting with this kind of handcrafted approach. This approach presents us, living in today's digitalized world, with an opportunity to reexamine the overwhelming quantity and materiality of objects and the fundamental human activity of creating something with one's own hands.
Participated in the "Creative Stay Open Call Program" of the Minna no Dogo Hot Springs Revitalization Project 2021.
Yamatoya Honten
Address

20-8 Dogoyunomachi, Matsuyama, Ehime
business hours

11:00 ~ 15:00
※Subject to change depending on the situation