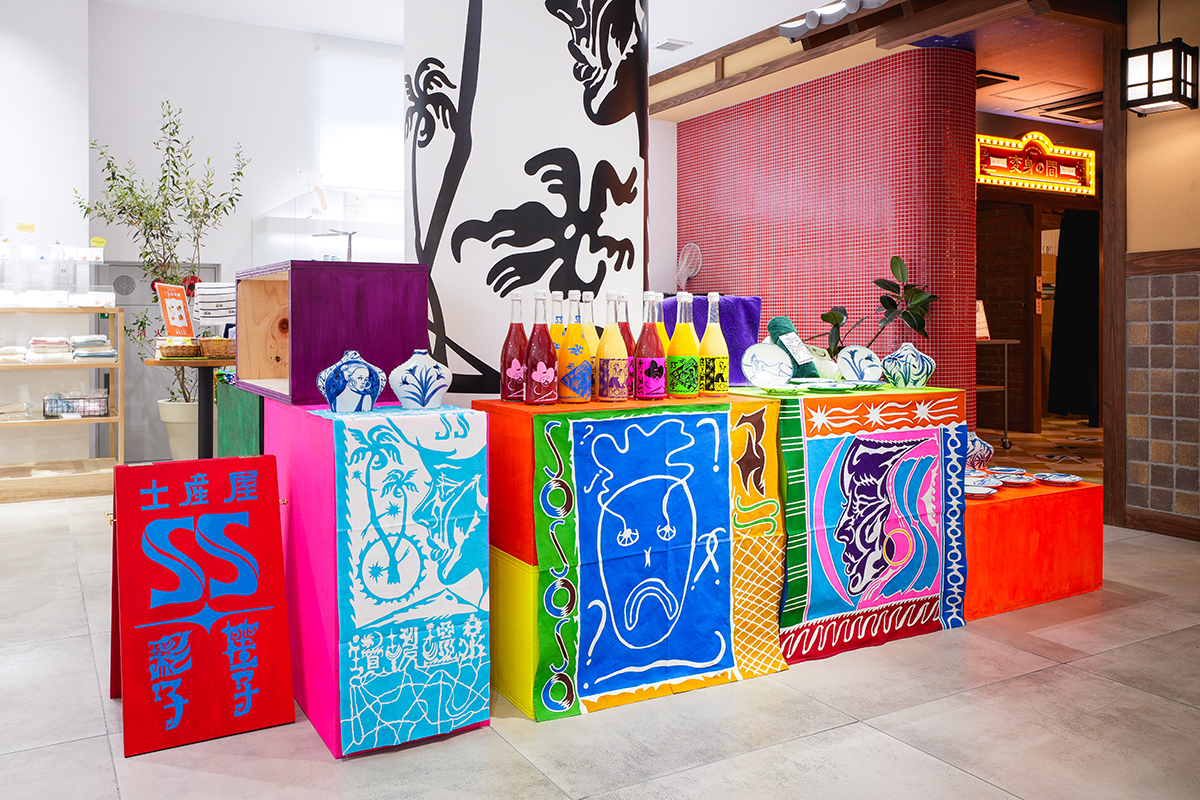 ©Otake Saiko,Otake Shoko / DOGO ART 2023
Iori Honten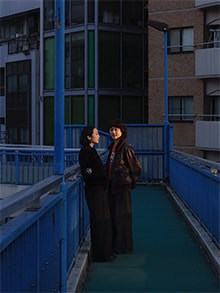 Saiko Otake + Shoko Otake
Souvenir Shop SS
Concept
Sisters Saiko & Shoko Otake were born and raised in Uwajima, Ehime. Currently, each is creating and exhibiting their works as an artist. They thought they could take on the "Arts & Crafts" theme of "Dogo Art 2023" when they combined their drawings with things inherited in Ehime. The concept of the work was "If the sisters opened a souvenir shop...". With the help of Ehime craftspeople with whom we have had a relationship, we will offer various goods.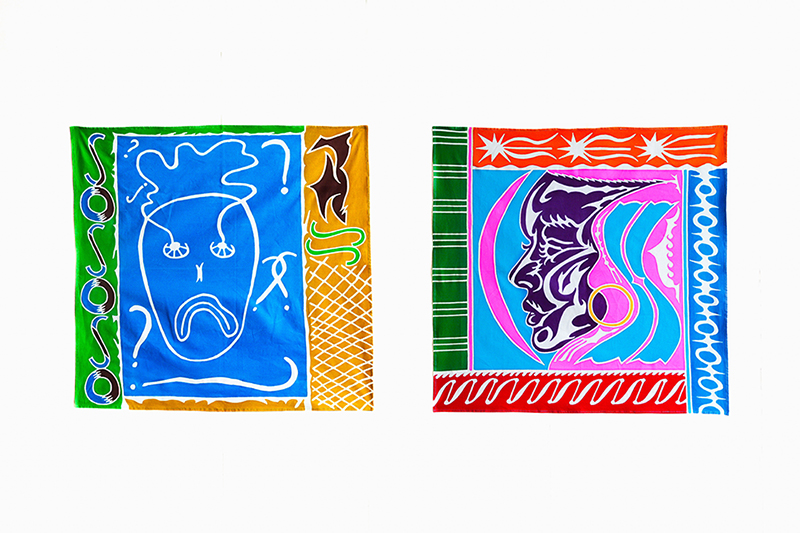 SS Tapestry×Kuroda Banner Store
Each tapestry is hand-dyed by Kuroda Banner Store, which has been in business for over 100 years in Uwajima City, and can be used as a furoshiki (wrapping cloth) or decoration. Limited edition of 5 pieces, each with a different design by Saiko and Shoko.
¥22,000/each(incl/tax)
SS Face towl×Watanabe Pile
This towel has an excellent hand feel and was originally produced by Watanabe Pile, who has passed on the love of towels from generation to generation, from yarn selection and weaving to dyeing. A special jacquard weaving technique is used to create a convex and concave image of sisters.
¥2,750(incl/tax)
SS drawing×Tobe Ware Creation Museum Vase, small plate, mini plate
This Tobe ware painting was inspired by the memories of a childhood trip to Tobe, where the family visited to paint pottery. This is a limited edition product created by sisters with the cooperation of the Tobe Ware Creation Museum.
Vase ¥5,000, small plate 3,500円, mini plate ¥3,000(incl/tax)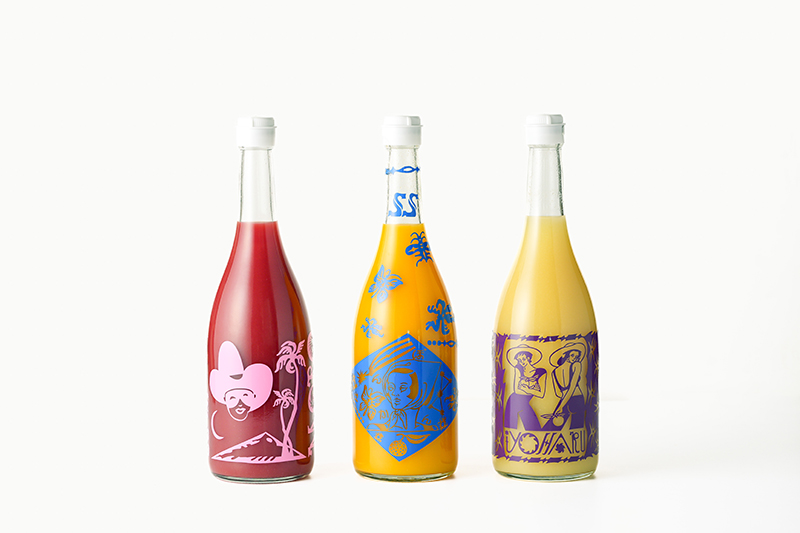 SS×Okuna 100 mikan juice Moro, Iyokan Ponkan Haruka
Three types of 100% mandarin orange juice from "Okuya Farm", Okuna, Yoshida-cho, Uwajima City. You can choose from special editions of various stencil stickers and fluorescent stickers, which can be used as a vase after drinking the juice.
Moro ¥2,750, Iyokan Ponkan Haruka ¥2,200(incl/tax)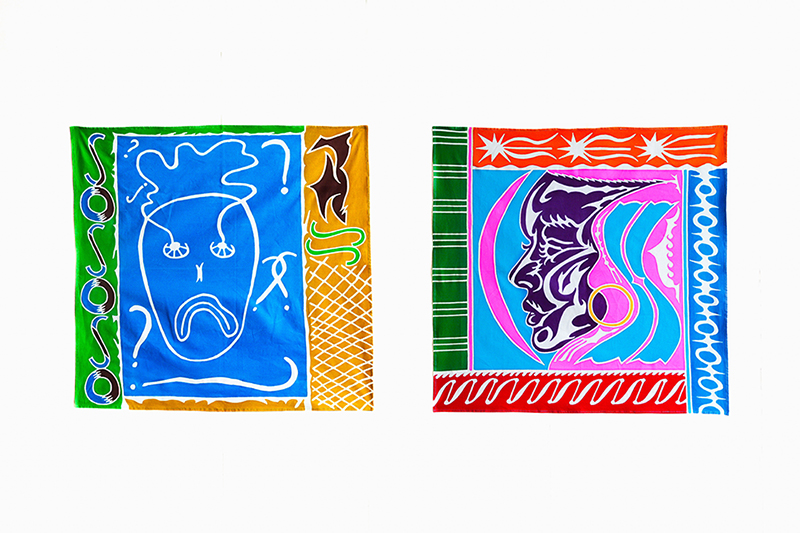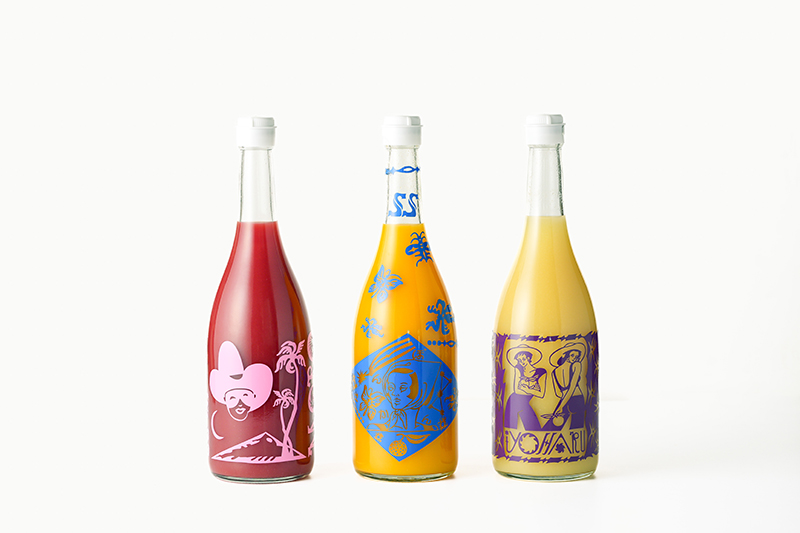 Artist, born in 1988. After graduating from the University of the Arts London in 2016, she has been based in Tokyo, working in painting, photography, and mural painting. She has visited and photographed various places, and has published 15 photo books.
Artist, born in 1993. Graduated from the Department of Textiles, University of the Arts London, in 2017. She embodies scenes she sees in her daily life using various techniques such as printmaking and drawing. She also contributes her work to book illustrations and fashion textiles. She has published a collection of her work, "DUMBBELL KUMBBELL I, II, III".
©Phannapast Taychamaythakool×Iyo Mizuhiki Kinpu Cooperative Association / DOGO ART 2023
I am what I choose to become
Phannapast Taychamaythakool
×
Iyo Mizuhiki Kinpu Cooperative Association
The experience of collaborating via online in 2021 will be the basis for the next major work. Both in expression and theme, we sought to explore what it means to be "Fabulous" (taken from the project's name, UFO-Unidentified Fabulous Object). Ms. Taychamaythakool sought inspiration from her favorite fairy tale, "The Frogs Who Desired a King" by Aesop. In the original story, she describes a world in which a corrupt mob, dependent on its leader, is eventually destroyed by God. However, She emphasized that a crowd should be "a group of independent and beautiful individuals", just as in the modern world. For the leader, she cited heron, a beautiful and indispensable element in the story of Dogo. The work is presented like a picture scroll, using many Mizuhiki in various forms, but at the same time, it is a sharp reflection of human society.
©Phannapast Taychamaythakool×Iyo Mizuhiki Kinpu Cooperative Association / DOGO ART 2023
Artist, Illustrator
A Thai artist and illustrator who tells her own story through motifs such as animals and flowers.
After graduating from Chulalongkorn University with a degree in fashion design, she continued to pursue her dream of becoming an artist while working as a designer for brands such as Kloset. She became known worldwide in 2017 when she illustrated a book of fairy tales linked to Gucci's Le Marché des Merveilles, a jewelry collection with animal motifs. Her work has been used by many world-renowned brands, including Instagram, Nestlé, and Bang & Olufsen.
A group of companies engaged in the production of mizuhiki products, a traditional Japanese craft, based in Shikokuchuo City, the top paper producer in Japan. The products are made by Traditional Craftsmen who belong to the association. Artist Aya Tsukioka (Matsuyama City, Japan / Participant in Dogo Oncenart 2014), who currently serves as an advisor to the association and is also the designer of the association's original brand MIMUS, will be in charge of coordination.
Iori Honten
Address

20-21 Dogoyunomachi, Matsuyama, Ehime
business hours

09:00 ~ 21:00
※Subject to change depending on the situation