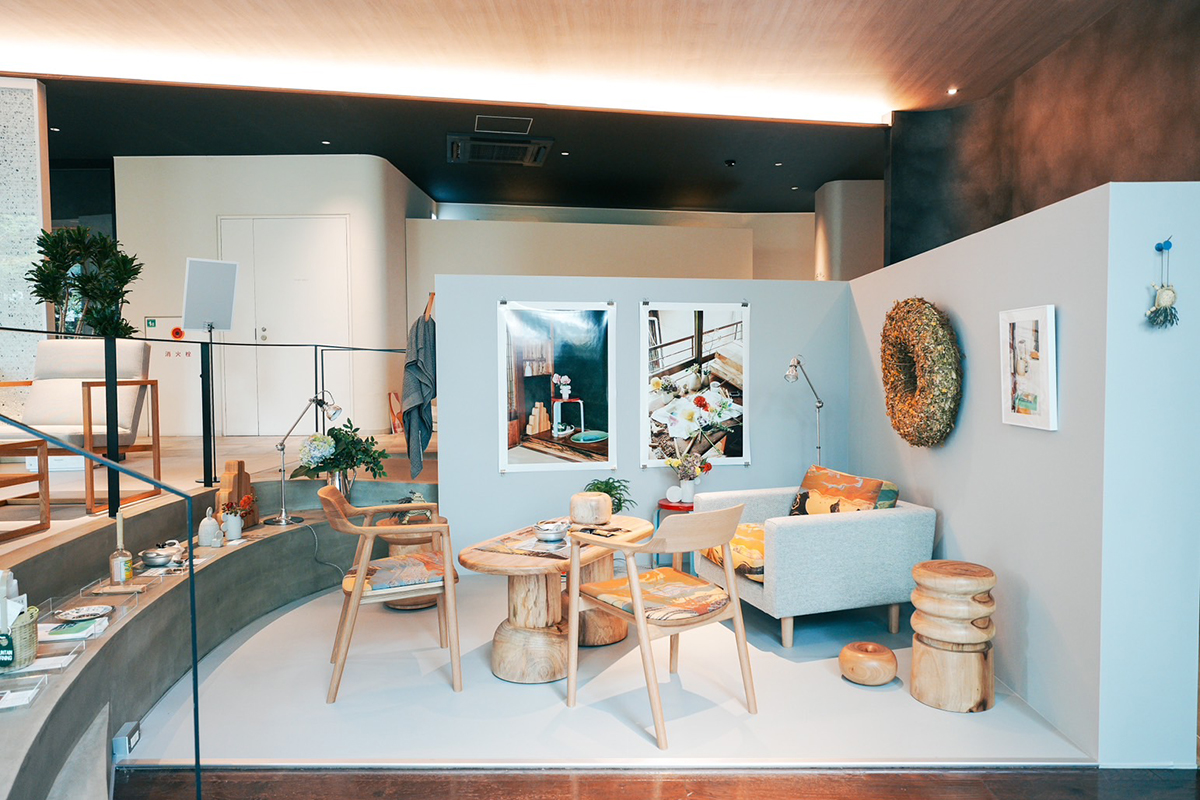 ©Fumiko Sakuhara / DOGO ART 2023
Dogo Miyu
Fumiko Sakuhara
Dogo Mountain Morning
CONCEPT
Ms. Sakuhara is developing "Mountain Morning," a project in which people and things meet, get involved, enjoy the unexpectedness that arises, share joy, and create something new through mutual respect. As an interior stylist to visit Ehime for the first time, she wondered what she could do for this project, and the answer she arrived at was "styling". She searched for, connected, combined, and expressed, from the perspective of an Ehime novice, the abundance of things handed down in Ehime, which is full of nature, and attractive things that are being newly created beyond generations and national borders.
Mountain Morning
Postcards
These postcards are styled by picking up things that caught Ms Sakuhara's attention and captivated her in her daily life in Ehime. Photographs are taken by Reiko Toyama, a photographer who is a close friend of hers, and the designer is Ren Murata. There are currently 11 types of works, which will be updated during the exhibition.
¥165/each(incl/tax)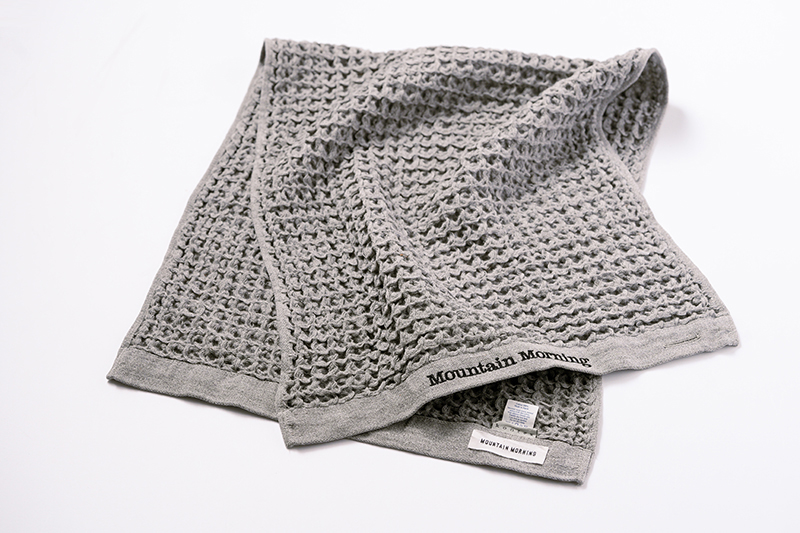 Towel by kontex
We ordered our favorite waffle fabric series by Imabari towel brand 'kontex' with "mountain morning" logo embroidery and original buttonhole. Two sizes are available: a face towel and a large size that can be used as a bedspread. A leather loop for towels is also available as an original product of "mountain morning".
face towl ¥1,760, XXL ¥20,900(incl/tax)
Fujiwo Ishimoto ×HIROSHIMA/Marni Wood Industry SP sofa, SP armed chair
Fujiwo Ishimoto provided us with a textile named "KOSKI," which means "mountain stream," from his precious vintage collection, and we collaborated with HIROSHIMA (designed by Naoto Fukasawa) of MARUNI Wood Industry. The atmosphere of Mr Ishimoto's work, which has been active in Finland for a long time, combines fabrics from the Danish textile brand Kvadrat. (The items will be sold by lottery and delivered after the exhibition period ends.)
SP sofa ¥490,600, SP armed chair ¥239,800(incl/tax)
Kiyoshi Joko Crane and turtle etc
Mr Joko, who has been making straw crafts for more than 20 years, uses her whole body to create each piece, which is very precious now that the number of successors is dwindling. These are traditional works from Ehime, where rice cultivation is flourishing.
turtle(small)¥3,000, crane(small)¥2,500(incl/tax)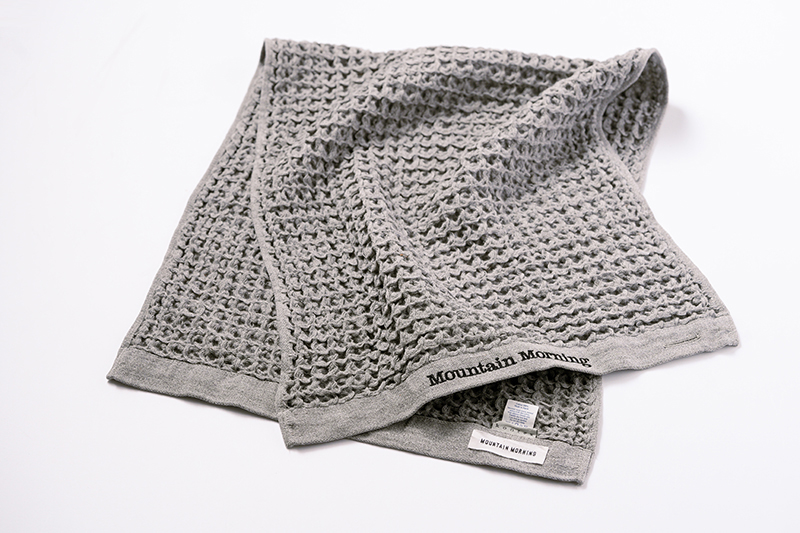 Interior stylist
After studying under Michiko Iwatate, she became independent in 1996. She has worked on a wide range of projects, mainly styling for magazines, advertisements, catalogs, TV commercials, exhibitions, store displays, film art, etc., as well as directing new projects for companies. She has been active at the forefront as a leading interior stylist in Japan. Her unique styling, which mixes various tastes with her flexible sensibility, is well known by both men and women alike. In her project "mountain morning," she develops original items with photographers, stores, brands, and artists with whom she has close relationships. She also holds exhibitions and markets irregularly to embody her worldview.
©Lu Yang × Naotaka Takahashi / DOGO ART 2023
Electromagnetic Brainology – Fire Deity -
Lu Yang × Naotaka Takahashi
Naotaka Takahashi, who empathized with the world view of media artist Lu Yang's works, met the artist in 2019, when her activities in Japan were increasing, and spent about 10 months creating this work. In 2020, Mr. Takahashi, who was awarded the title of "Contemporary Master Craftsman" and is responsible for the decoration of floats at the Niihama Taiko Festival, which is said to date back to the Kamakura period, injected the essence of his skills into the fire god of electromagnetic brainology. After exhibiting this work in Hong Kong and Singapore, it will finally be unveiled for the first time in his birthplace. This is the first traditional craft work for Ms. Lu Yang, who is also known as a film artist.
©Lu Yang × Naotaka Takahashi / DOGO ART 2023
Artist
Based in Shanghai and Tokyo. Lu creates fantastical, often painfully shocking images which represent an interdisciplinary blend of religion, philosophy, neuroscience, psychology and modern technology. The output of his artistic practice spans game engines, 3-D animated films, video game installations, holograms, motion capture performances, etc. Lu's works have been featured at several institutions and exhibitions including Kunstpalais Erlangen (Erlangen, Germany, 2022), Spiral Garden (Tokyo, 2018), and M Woods (Beijing, 2017-2018). Recent participations in large thematic exhibitions include Asia Society Triennial 2021, New York, and the 59th Venice Biennale in 2022. Lu Yang was awarded the BMW Art Journey in 2019, and Deutsche Bank's "Artist of the Year" in 2022.
Stitcher
Based in Shikokuchuo City, Ehime Prefecture. A stitcher who makes decorative curtains for taiko stands and other items. Designated as a traditional specialty product of Ehime Prefecture in 2002, certified as an Ehime traditional craftsman in 2006, and awarded the "Governor's Commendation for Outstanding Technical Worker" in 2018 and the "Outstanding Technical Worker, Contemporary Master Craftsman" in 2020.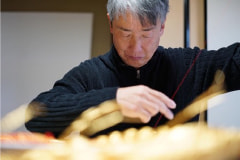 Dogo Miyu
Address

2-20 Dogosagidanicho, Matsuyama, Ehime
business hours

11:30〜14:30
※Subject to change depending on the situation