©Mirai Seike / DOGO ART 2023
CHAHARU
Mirai Seike
Craft x Culture
Concept
Mr Seike has experience as a buyer for apparel makers and stores, and his deep knowledge of art is utilized in planning his original and select products. He adopts mainly folk art, crafts, and handmade items from his hometown of Ehime, and crosses them with culture. His perspective on the future of Ehime's crafts is to connect, add to, and mix artists with those who have traditional skills, and to show the possibilities of expanding the future of Ehime's crafts.
DELISH Mikan juice
This fresh mikan juice is made from Onshu mandarins harvested in Yawatahama City, Ehime Prefecture. Please enjoy this juice made in the pride of a farmer.
¥1,300(incl/tax)
Hime daruma
A local toy made in Kamogawa, Matsuyama City, where I was born and raised. It is popular as a birth gift, a safe delivery, and a good-luck charm for children.
¥1,320(incl/tax)
Kinten daruma
A local toy made in Kamogawa, Matsuyama City, where I was born and raised. It has long been popular as a good luck charm for academic success.
¥880(incl/tax)
Standing Ushi-oni mini made of Mikan tree
Ushi-oni (cow demon) kokeshi dolls have long been popular in Uwajima. Because they are made from mandarin orange wood, the colors and patterns vary depending on where the wood is used.
¥660(incl/tax)
SGSC store owner/buyer
Born in Matsuyama City. Owner and buyer of the select store "STEEP GRADE SHARP CURVES" which opened in Komae, Tokyo, in February 2022. After working for an apparel manufacturer, he joined a major select store. At the major select store, he worked as a buyer, and took advantage of his deep knowledge of art to work on various projects and special order items. In 2017, he left the company in search of a new environment. After becoming independent, he worked in the Imabari towel industry and the apparel industry. But having two fingers on the pie was not enough for him, so he opened a store. The store sells a selection of local products from Ehime.
©Yukito Nishinaka / DOGO ART 2023
Kira
Yukito Nishinaka
He explores glass, a material that is familiar to everyone, and takes its formative beauty to the extreme to create an installation that is both symbolic and supernatural.
He heats granular glass to 700 degrees Celsius, hardens the glass while leaving the grains in place, and then pours molten glass at 1100 degrees Celsius to unite them, condensing multiple time frames into a single work of art. The result is a one-of-a-kind presence that is both serene and glittering at the same time.
©Yukito Nishinaka / DOGO ART 2023
Glass sculptor
After graduated from Hoshi University of Pharmacy, he studied sculpture and glass art at California College of the Arts. Under the theme of "sparkle of life, rebirth, and eternal circulation," he pursues glass expression inspired by the beauty of ancient Japan. His representative works are "Glass Yobitsugi" based on Kintsugi's aesthetic sense, and art spaces with the message of the connection between the universe and life. He also advocates the realization of a sustainable society through his works using recycled glass. Glass Karesansui "Eternal Affinity " was dedicated to Honenin Temple in Kyoto (2019).
Exhibited in "150 Years of Japonisme" at the Musée des Arts Décoratifs, Paris (2018) and "Living Kogei" at the Museum of University of Hong Kong (2019).
His works are in the collections of Ashmolean Museum of Art and Archeology, Oxford University, Victoria and Albert Museum (UK), and others.
Awarded the Grand Prize at the 1st Contemporary Glass Art Exhibition in Satsuma, Japan, WIRED / CREATIVE HACK AWARD 2013 Graphic Prize, World Media Festivals Gold Prize, Circular Award / Circular Energy Prize, and others.
Participated in the "Creative Stay Open Call Program" of the "Dogo Hot Springs Revitalization Project for Everyone" in 2021.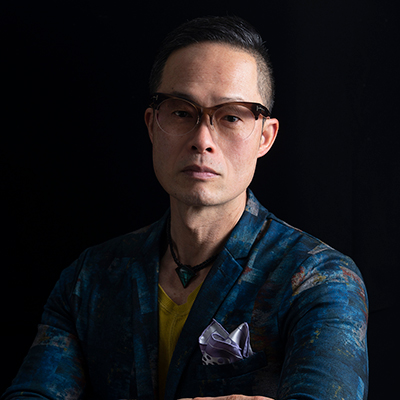 CHAHARU
Address

4-4 Dogoyuzukicho, Matsuyama, Ehime
business hours

07:30 ~ 22:00
※Subject to change depending on the situation